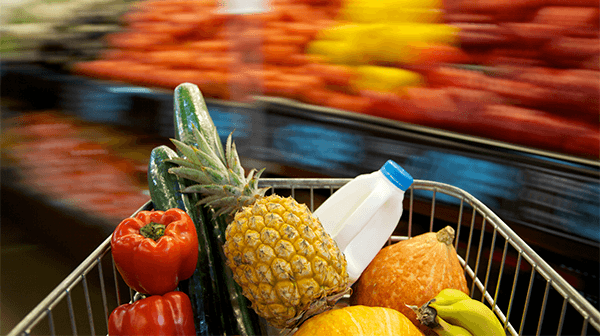 Everyone needs to eat; we cannot control that. What we can control is the way we buy groceries to maximize value without sacrificing quality. Follow the methods below and you too will be able to keep your kitchen stocked and your wallet full!
Compare Grocery Stores
If you live in a decent sized city, you should have several options for where to buy your groceries. Each week, the stores will run a new flyer with different deals for the week. By comparing these flyers, you can put together a grocery list that contains these items. Many grocery stores now offer price matching as well which means you can get all your shopping done at one place. Just remember to bring the flyers with you!
Here is the method I use when buying groceries for my family.
Review Flyers

Every Thursday, flyers are delivered for all of the local grocery stores (this might be different in your area). The deals listed in the flyers are good for one week so you have some flexibility on deciding what day you want to shop.
Create a list and write down the grocery store name and then begin going through the flyer to see if there are any deals on items you normally would purchase. If you see a good deal, write it down on your list and include the price and size of the product.
Do this for each store.
At the end, you should have a list showing which deals are available at each store. If you find that you end up with the same items listed at different stores, just cross off the more expensive one.
Frugal Foods
If you really want to get the most value for your money, there are a couple of items which are good to buy. It really helps here if you like cooking, because ready made meals are always more money and not very healthy either. A lot of people think cooking is hard but it really isn't. Check out some of our favourite frugal recipes to get an idea of some easy to make low cost meals.
Vegetables:
Carrots, potatoes, and onions can normally be found in 5, 10, and even 20 pound bags for less than $3 each. When on sale, you can get them even cheaper at around $1.62 per 10 lbs bag.
In addition to root vegetables, you can usually find weekly specials for a certain vegetable. These are typically, broccoli, eggplant, zucchini, tomatoes, cucumber and squashes.
Canned Products:
Beans, chick peas, canned tomatoes are all great things to have on hand. You can usually get big cans of these for around $0.80 cents or less.
Pasta:
Pasta is always cheap, but about once a month grocery stores will have a sale (maybe too much stock) and the prices are about half price. Stock up on cheap pasta as it lasts for a long time. The same goes for pasta sauce.
Big Appetites on a Small Budget – Smart Ways to Buy Food